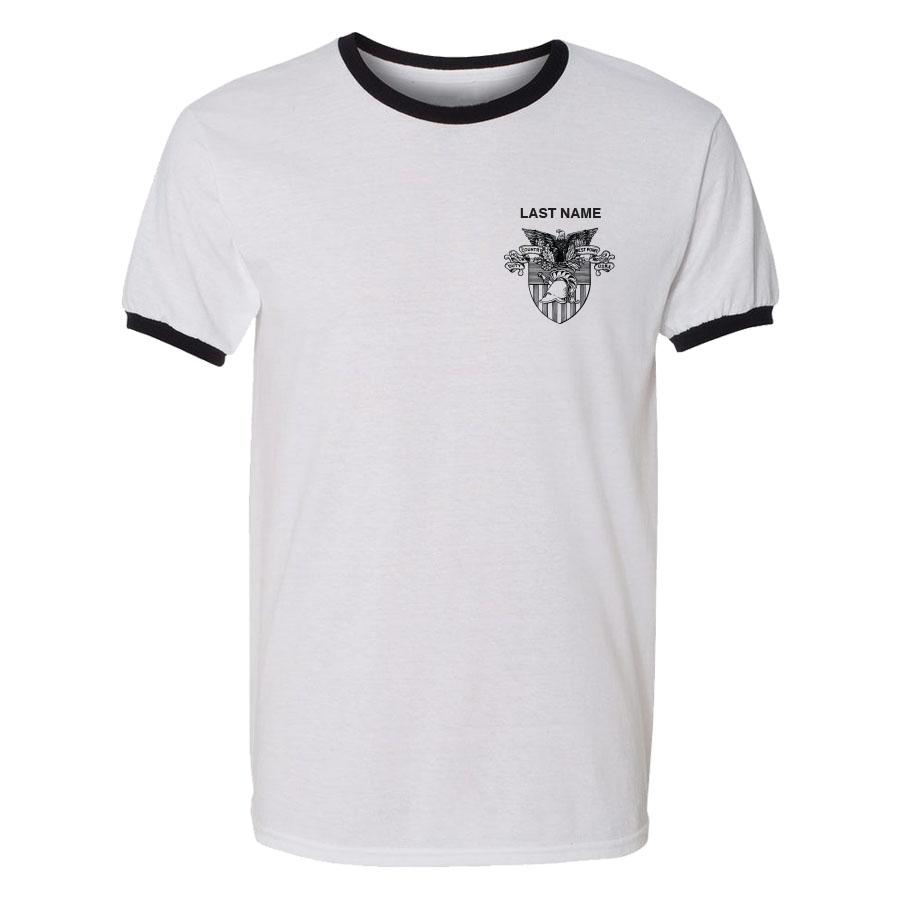 LOGOBRANDERS
Pre- Order Old School Pt Shirt
Item # R040
$24.00
A soft feel t-shirt with the USMA Crest over the left chest. Customized with your last name, Beat Navy, or other West Point-themed message! Please note: The original Gym A shirts were 100% cotton. This style is a cotton/poly blend. It may feel different than your original, but it will not shrink. We find that it runs true to size for a t-shirt. Special orders are final sale, so please call if you have questions before ordering.

Enter your last name or requested verbiage in the customer comments when you checkout. PLEASE NOTE THAT NICKNAMES/UNKNOWN ACRONYMS WILL NOT BE USED.

This item is pre-order only. Pre-orders end March 31st and shirts are expected to ship in mid-June.


Average of 9 customer reviews:





Write a Review

---
Date:

February 19, 2017
Ringer Shirts!
Planned on one, but prefer the old school 100% gotten. Sorry.
---
Date:

April 6, 2017
Need Bigger Sizes!
Sure would be nice if you could provide these items in a larger size 3XL or 4XL. I would buy several different items you offer if they were available in the bigger sizes - for myself as well as family members!!!
---
Date:

June 26, 2017
PT Shirt!
Perfect way to bond with the old grad in my family! Got some for several members.
---
Date:

July 13, 2017
Great Job, Guys!
Got one for myself, my wife, and both of our kids. Brought back lots of great memories.
---
Date:

July 21, 2017
PT !
Sweet
---
Date:

January 25, 2018
Deceptive Marketing !
It ain't "old school" Gym Alpha if it ain't 100% cotton.
---
Date:

May 10, 2018
Best Athletic Shirt!
These athletic shirts are simply the best. Back in the day they were the coolest look and there were thousands of girlfriends and family members who wore these things, given as gifts. Now that we are of senior age, having the name on an athletic shirt is a nice insurance policy. If, God forbid, you keel over and are lying by the side of a road or path, anyone will be able to identify you by your name above the Academy crest. Yes, the price is a little high. But youll want to get at least 3 of these. I find that 6 is best. Your wife will be stealing these from you, or your kids or grandkids. Btw, my chest size is 40 and last time I ordered, the Large was my best size. Bottom line...this is simply the best athletic shirt you will ever own. Always was, always will be...Youll be kicking yourself if you dont order these...
---
Date:

May 10, 2018
Old School PT Shirt !
Was all set to order multiples, but it's not 100% cotton, so Sorry. I think we know about shrinkage and can order accordingly. Too bad—Great idea.
---
Date:

January 10, 2019
Runs small!
We actually like the shirt and it is well done in terms of the logo. However I ordered an XL the first time around and there is no way that that was a true XL. There isn't a shirt that I can't wear that's an XL but this one was too small. It ended up being my wife's shirt and now I will order another one in a larger size. I also would've rather had 100% cotton but I know those don't get made much anymore. This one still looks and feels good.